About E&A
"Elo & Anson," or "E&A," is a comic strip that I've authored since 1993, when I was ten years old. A detailed look at its origins can be seen in the E&A Intro.
I began putting the series on the Web in 2002, with daily black & white strips. I now call that era E&A Classic. It became the first chapter of E&A as a web comic. And now there are eight chapters and counting. The series features stand-alone comics and episodic stories of varying lengths, within the chapters. As the series went on, I transitioned from only single-row strips to some larger comics, and the stories became more involved.
There was, in fact, a "chapter" of sorts, after the very early drawing of E&A and preceding E&A Classic by a year. I call it the E&A Renaissance of 2001, or E&A Ren. I chose to redo all the Ren stories in E&A Classic, and the original strips didn't appear online. That is, until much more recently. I began posting them during the 5th chapter, E&A Forever. And Ren played a big part in the 8th chapter, E&A Destiny, which is all one long narrative and a culminating point for the ongoing events of the whole series.
The series takes place in the fictional Serengeti City, in a world populated by anthropomorphic animals. It began with only the title characters, but the Web Series introduced four more main characters, as well as a few recurring faces. Here is a little overview of the main cast of six:
Elo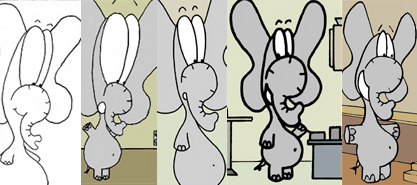 An elephant, a chef, a wonderful man. Since 2002, he's been working as a chef in Pang's Restaurant. He is an imaginative fellow and some of the E&A stories are Elo's dreams. Elo is the drummer in his band, "Frosted Frumpet," which is active for a large chunk of the series.
Anson

An ant, and Elo's best friend. For most of the series, Anson is Elo's housemate, works at a huge corporation called AfriCo, and plays the guitar in "Frosted Frumpet."
Todd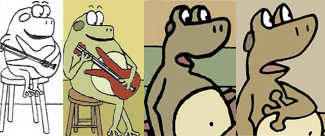 The bassist and frontman for Frumpet. Todd is a music snob of a toad who can be also be seen working at a used record store and going to community college.
Bernie C. Egret


Barber to Elo and other large mammals who need a good grooming. Bernie is the self-proclaimed greatest "Juicie" (or juice connoisseur) the world has ever known. He would want you to know that he's great in many other ways, too.
H. Thomas "Haps" Hapgood

A hippo who owns and operates Hapgood's Juice Bar, which is co-owned by Bernie and frequented by Elo and Anson. Haps has a shady past, but you'll meet no one nicer. Bernie believes him to be the greatest Juicer of all time, and encouraged him to go pro.
Pang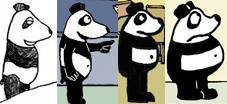 A panda, and immigrant from China. He owns the Chinese restaurant "Pang's," and is lucky enough to have Elo as his chef and only employee.
The other characters include:
The villainous duo Scaphio and Phantis, a beetle and elephant.
A music mogul and high school friend of Elo and Anson's named Annie Myrm. An ant.
Anson's co-worker of long-time crush, Anita. An ant.
Mr. Snyder, the C.E.O. of AfriCo. A snake, in more ways than one. Look out for that guy.
A mighty pirate that exists in Elo's dreams (and other planes of reality), Captain Jollygut. An elephant seal.
And myself, Al, the author of the series.